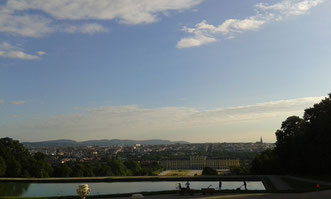 7th day upwards
time: 00:44:49
distance: 6,01km
temperature: 17°
first song: don't speak (no doubt)
today was the hardest day so far. for the first time getting up was easier than the run itself. I felt like a stone not beeing able to move at all!! I don't know why. nothing went smooth. although it was a gorgeous morning! and I was starting a little bit earlier. because I was in bed by 10pm last night.I forgot my running cap which made a difference already. my knee was still bothering but not hurting. (I should get my knee brace by tomorrow). a squirl crossed my way and it seemed as this little guy wanted to play with me. I was close to stop my run and play ;-). but I kept going. and I kept telling myself all the way "eva, you can do it, just keep running". and I kept running till the end.
I don't know why the format of this blog entry is different today. I will take care of it later. now I need a coffee and a shower.
hopefully it will be easier again tomorrow.
take care and have a good one!
nb. I was able to fix the format in the meantime but have to check why it was different in the beginning. the whole blog entry gave me a hard time today.